2 features highlight small desktop mixer amplifier for sound system (100V Wall Mount Mixing Power Amp)
Date: 2020-09-10 Clicked: 1518
100V Desktop Mixer Power Amplifier and Compact Wall Mount Mixing Amp for Public Address Sound System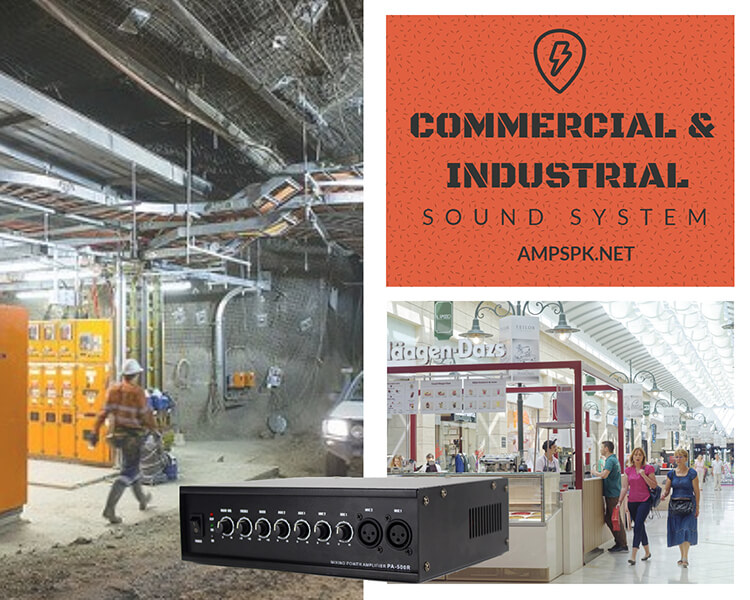 A desktop mixing power amplifier usually made in small and mini size, to place on the table or desk, easy operating the sound system from people within the reach. This is convenient for user and quite affordable to set up a practical ceiling speaker or wall mount speaker acoustical system for background music, party or audio notification.

It can be different type, power or looking of the amplifier receiver, include mini stereo amp, small mixer amplifier, 70V/100V tabletop amp for commercial audio, multiple 2/4 channel power amp or compact designed preamplifiers.
This range of mini desktop amplifier are most welcomed and adopted in many small to medium scale audio system, huge demand for it and shipped at large quantity for every month.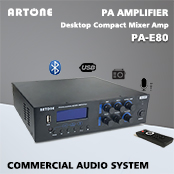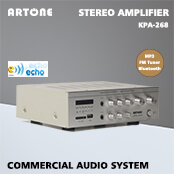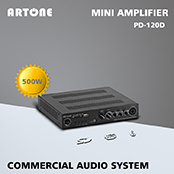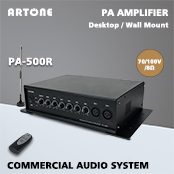 On the other hand, mentioned of wall mounted amplifiers, it is related to an industrial, commercial use or home audio amplifier for special purpose of the sound system, like in the factory workshop, multimedia room, large-scale IP audio system, smart home background music, indoor/outdoor advertisement, museums, school or classroom, etc.
Now, ARTONE PA-500R amplifier combines both of two type together, made it desktop or wall mounting are available for different application, it is compatible with 70/100V line and 8 ohm speaker, no matter long distance transformer connection of your 70V or 100V PA speakers chosen or low impedance speaker preferred, PA-500R works stable with these speakers.
Mixer amplifier PA-500R can be either set on the table or mount to wall, with 2 XLR microphone inputs and 2 AUX inputs (RCA), it supports 1 RCA line out. Basic control for master volume, treble, bass, separate vol control of MIC1, MIC2, AUX1 and AUX2. The receiver is super easy act as a standalone audio system, connect to your PC, mixer, pre amp, internet radio device, TV or other audio sources, make proper connection with speaker cables, it'll good to go.
The desktop mixing power amplifier's another important feature is remote control, unlike other mixer amplifier come with USB and Bluetooth controlled by an IR remote. The sound level of PA-500R also can be controlled with a remote, and surprising adjust volume up/down, sound ON/OFF at 10~30 meters.
Features:
- Two way use mixer amplifier, compact tabletop set or wall mounting as terminal audio amplifier;
- 70V/100V/8ohm speaker output available for long distance sound transmission;
- RMS 50W power for public address system;
- 2 XLR mic inputs, 2 RCA AUX inputs, 1 RCA output;
- MIC1/2, AUX1/2, treble, bass, main volume control;
- Remote control max 20-30 meters;
- Short circuit, thermal, clip protection;
- AC power 100~110V or 220~230V 50/60Hz
Specification:
Model No.:
100V Desktop and Wall Mount PA Mixer Amplifier PA-500R
Power
RMS 50W
Speaker Output
70v/100v/8

Ω

Inputs
Balanced 2 XLR microphone (20K

Ω

) / Unbalanced 2 RCA AUX input (10K

Ω

)
Frequency Response
60~18KHz
S/N Ratio
Mic: 70 dB / AUX: 80 dB
Volume Control
Treble, bass, Mic1/2, AUX1/2, master volume
Remote
10~30 meter
Material / Finish
Metal / Black color
Measurement / Weight
248 x 185 x 70 mm / 5.8kg

Download
ARTONE Mixing Power Amplifier PA-500R Leaflet
China Mixer Amplifier PA-500R Brochure
Public Address 100V System Amplifier PA-500R User Manual